Waarom kiezen voor Humusatie?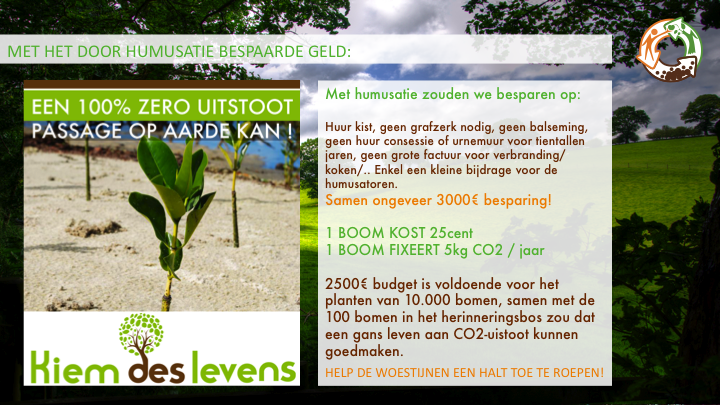 Voordelen van humusatie tegenover ter aardebestelling
• geen doodskist
• geen concessiekosten op een kerkhof voor de duur van 5, 10, of 25 jaar
• geen kosten voor een grafsteen of grafkelder
• geen kosten voor balseming noch toevoeging van schadelijke chemicaliën
• geen regelmatige onderhoudslast van het graf voor de verwanten
• geen grondwatervervuiling door cadaverine, putrescine, medicijnresten, pesticiden, hormoonontregelaars,..
Voordelen van humusatie tegenover verbranding
• geen giftige stoffen die vrijkomen in de atmosfeer of in de riolen
• geen onredelijke consumptie van fossiele energie (+/- 200 l brandstofequivalent / persoon)
• Geen columbarium-huur
• geen verslechtering van de oppervlaktelagen van de grond tijdens het verspreiden van as
Integendeel! Humusatie brengt een rijke humus voort, die gebruikt kan worden voor het planten van bomen en eventueel voor het regeneren van zwaar vervuilde gronden.
Het is een zachte vorm van het lichaam terug aan de aarde geven, zowel respectvol als duurzaam.
Bekijk zeker ook eens onze rubriek veelgestelde vragen (FAQ) voor meer informatie.