IK DOE MEE!
Onderteken de petitie, volg ons op Facebook en praat vooral met al uw kennissen om hen aan te moedigen hetzelfde te doen.


Het ligt in onze macht om aan politici te bewijzen dat we heel talrijk zijn om, wanneer onze tijd is aangebroken, voor Humusatie te kiezen in plaats van begrafenis of crematie.
Deel dit mooi idee met al je contacten!
Hoe meer handtekeningen, hoe sneller de wet zal veranderen en toelaten dat de eerste lichamen eindelijk gehumuseerd kunnen worden.
U kunt deze petitie ook via een papieren document laten tekenen voor de degenen onder uw contacten die geen internet hebben.
Klik hier om het document te downloaden en verzendt het ingevuld naar het onderstaand adres.
Informeer uw lokale verkozenen van uw laatste wil.
Van zodra iemand overtuigd is dat Humusatie hem beter past dan begraven of verbranden, ongeacht zijn leeftijd of zijn gezondheidstoestand, kan hij per mail of per brief het Gemeente College en de Burgemeester hiervan op de hoogte brengen.
Zelfs indien de wet Humusatie nog niet bestaat, kunnen we druk uitoefenen op onze verkozenen, door hen te vragen degenen te willen helpen die gekozen hebben voor Humusatie.
Klik hier om de "Akte van Laatste Wilsbeschikking"  te downloaden.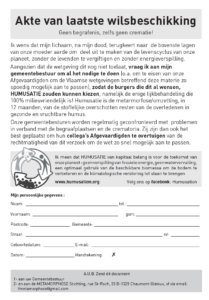 Vul het digitaal in en kopieer het pdf document het op uw PC, druk het af en zend één deel naar de Gemeente diensten en het andere deel naar:
info@humusatie.be of per post naar het adres onderaan dit document, om ons te informeren.
Het zijn de bestuurscolleges die wetswijzigingen kunnen bevorderen. Ze worden ook geconfronteerd met de problemen van de kerkhoven en de pollutie rondom de crematoria.
In naam van de komende generaties van onze kinderen en kleinkinderen…BEDANKT!